About
the glass artist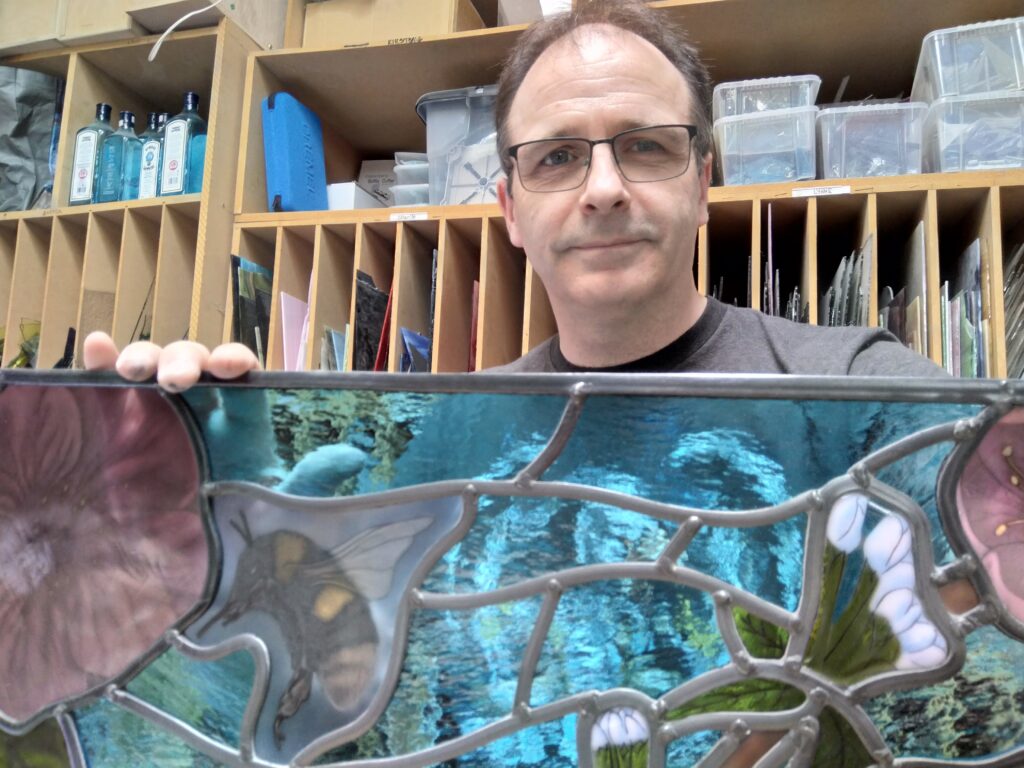 My name is Steven Graham and I have been working with glass since 2001. I am an award winning glass artist and have a BA Honours First Class Art & Design, specialising in art glass.  As a glass artist I specialise in painted stained glass panels and kiln formed & cast sculptural glass.  My work seeks to capture the translucence of glass and its unique ability to work with light to transmit colour. 
My stained glass panels are influenced by the styles of the Pre-Raphaelite and art nouveau periods while incorporating contemporary themes. I use the individual qualities of hand blown glass which I enhance by etching and painting with hydrochloric acid and detail using traditional, high fire glass paints, stains and enamels. My painting style is very realistic and I will layer numerous firings to create depth and shape that captures likeness and realism, particularly important to me when executing portrait pieces. Where possible, I will encourage the installation of panels into light boxes to allow the client to maximise their opportunities to view the artwork throughout the day and night.
My cast and sculptural glass work is based on my investigations into historical and theological themes, with a contemporary presentation. My research allows me to identify specific subjects to explore shape and colour in a manner that allows the properties of the glass to enhance the design.
When working on commission pieces, I strive to work closely with my clients to ensure the end piece delivers their vision while creating the opportunity to produce a highly personal and involved work of art that the client can achieve a personal sense of involvement with. Please read my Google reviews.
This sense of involvement is carried into my delivery of educational workshops. I am fully committed to the continuance of glass as an art medium and its take up as an educational and career option by secondary school children. In doing so, I work closely with school teachers, pupils and Further Education colleges to tailor workshops that ensure interest, fun and a sense of achievement and fulfilment. To that end, I like my work to motivate and inspire the next generation of glass artists.
Please contact me if you would like to discuss a commission, a repair or a workshop. I look forward to hearing from you.
Steven