Exhibitions
This page showcases some of the panels I have made for exhibition purposes. Exhibitions tend to set a theme, which allows the artists to create a design inspired by that theme, e.g. how many things come to your mind if I said the word 'Celebration' or 'Heritage'.
Exhibitions set a challenge for me too explore the theme, to research topics relates to it, and to generate designs that inspire the connections I make with the theme. They also give me the opportunity to explore new techniques to incorporate into the design, and this includes types of glass, styles of painting, the use of technology and methods of displaying the finished piece.
Exhibition panels give potential clients the opportunity to see my versatility in my approach to design, the execution of my making and how contemporary the overall piece can be. This can inspire a client with regards to them developing their thoughts and their options.
I hope the images on this page inspire you to contact me and start the commissioning process.
National Icons
I have 3 pieces on show at the Scottish Glass Society 'National Icons' exhibition, at the Trades House, Glasgow
My 3 pieces include 'David Coulthard: British F1 Grand Prix Winner 1999', 'The Bee and the Golden Weave' and 'Rusry Rivets'.
David Coulthard is a digital collage of images from his fabulous Silverstone win, the image then screen printed onto red flashed glass. Once the paint was fired, the flash glass was acid etched to retain red highlights and details, and then silver stained to create the golden yellows. The piece is set in a leaded two tone checker border incorporating McLaren and F1 logos in flashed glass. The panel sits on a stand that compliments the checkered grid.
I hope the images on this page inspire you to contact me and start the commissioning process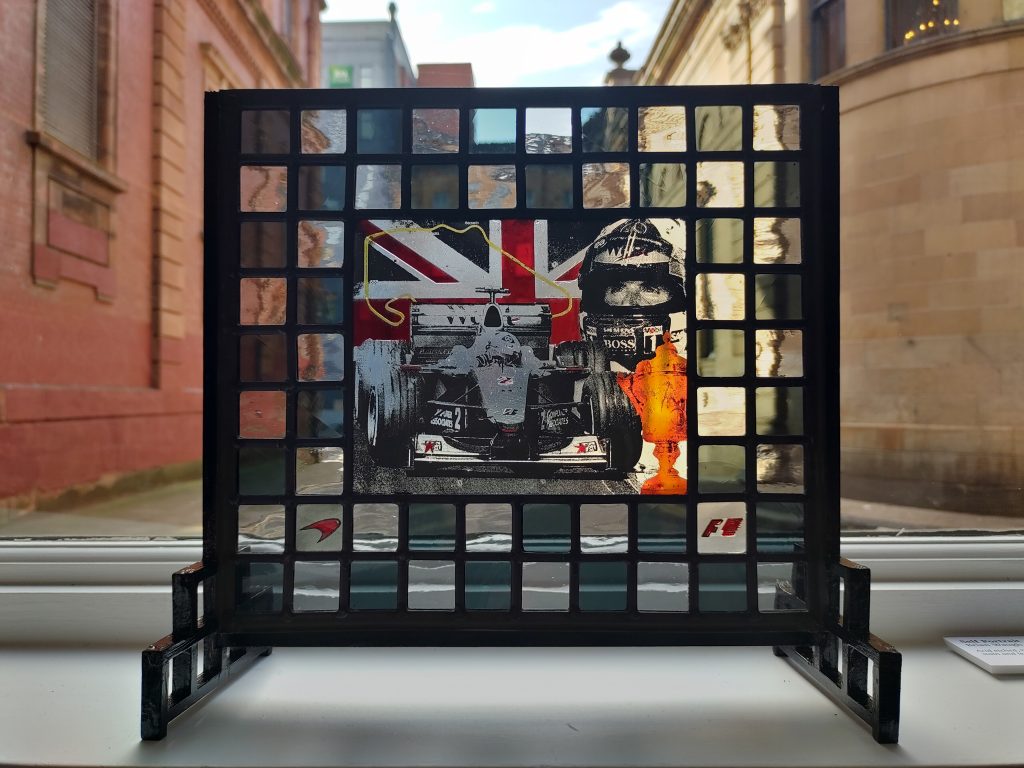 'Making History: Dunfermline Abbey'
As the appointed artist in residence at Dunfermline Abbey as part of 2022 Making History project, run in partnership between Historic Environment Scotland and Craft Scotland. The project involved me working with a community group, while undertaking my personal artistic investigation of the Abbey, its history and its legacy.
My response, the Dunfermline Abbey Triptych, and the results of the 'hands on' workshops I led with the 3rd and 4th Dunfermline Boys Brigade companies were exhibited in the touring exhibition, culminating with a showcase in Dunfermline Abbey's nave.
My Triptych depicts 3 main elements of the Abbey's history and its legacy; namely the story of Queen (Saint) Margaret, the Abbey hosting the burial of 9 Scottish monarchs, and the formal declaration of Dunfermline as a city as part of Her Majesty the Queen Elizabeth II's Platinum Jubilee.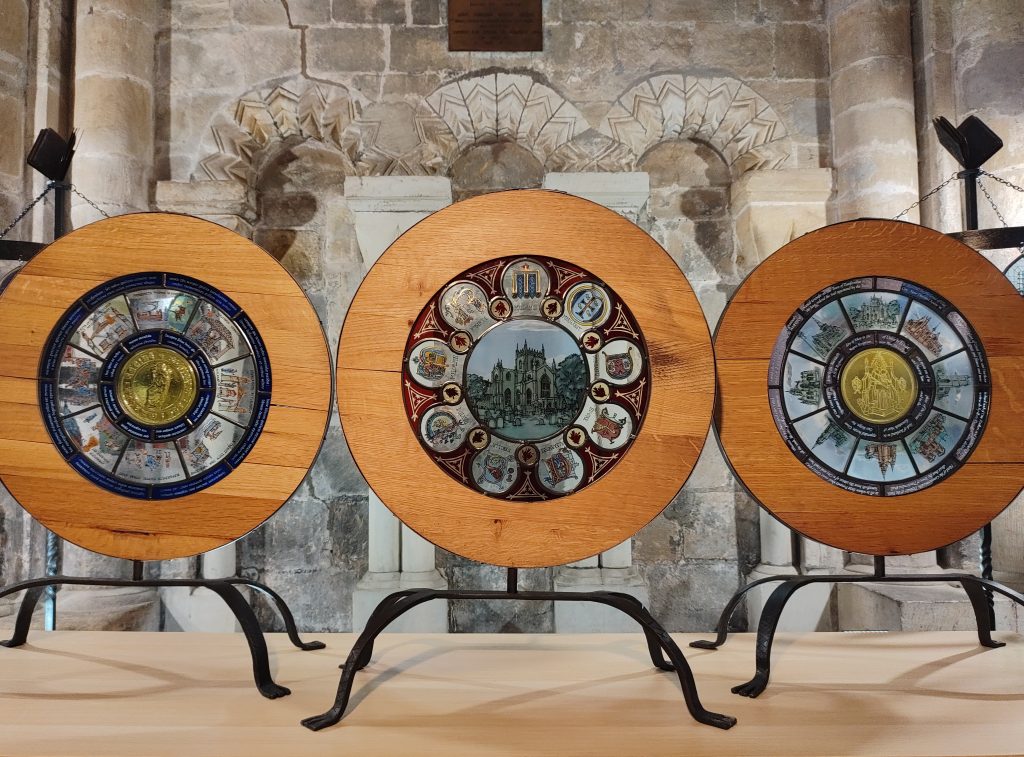 National Icons