Commissions
There are few things more personal than commissioning your own work of art. My commissioning process fully engages with you, the client, to ensure that your vision, your work of art, is fully realised and created as a piece of glass art. You might wish to commission your unique vision, a portrait of a family member or a pet. Whatever the subject matter, I will work with you on your design and engage with you throughout the making process. It is my aim that you are fully invested in my creating your art. I hope you like looking through the following portfolio of work.
---
Frank Lloyd Wright inspired Doors
This pair of dining room doors were designed to meet the clients interest in the designs of the 1920's American Frank Lloyd Wright.
The designs echo the clients history in his horse racing stables, in both shapes and colours.
The left door combines reds and blues while the right door combines reds, blues and yellows.
Both doors use design details made of a variety of acid etched red and blue glass, from cobalt to navy blues and tomato to copper ruby reds. Many of the reds are then silver stained to create fiery orange and yellows.
The black lines are created using a variety of lead joints, ranging from 6mm to 22mm leads.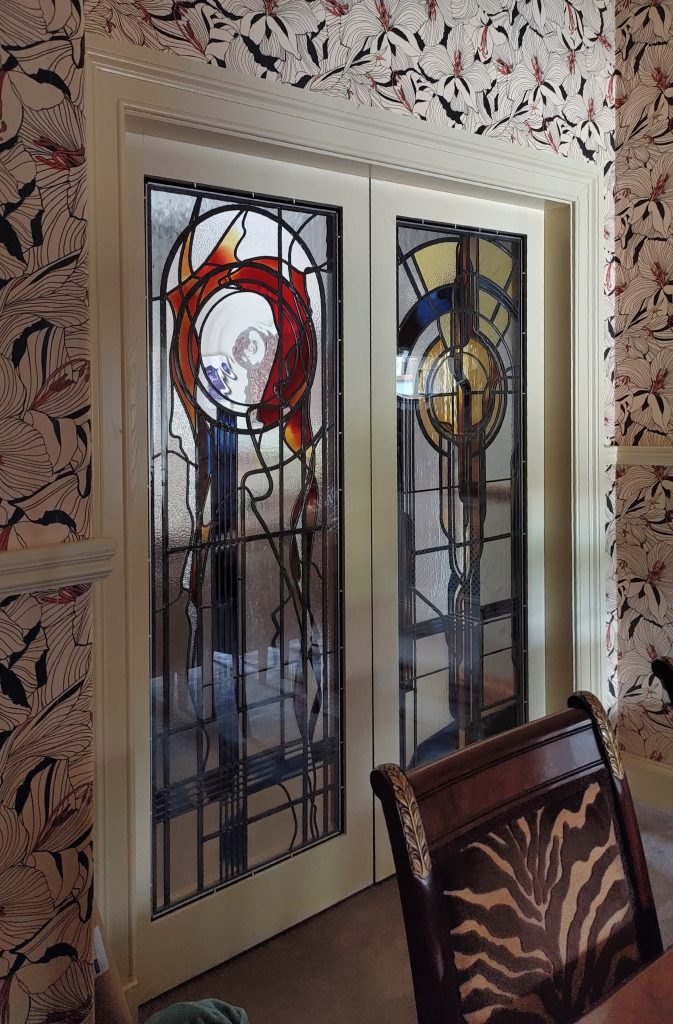 Garry
I was approached to create a unique retirement gift for a unique individual. It became clear that Garry was a man that was well respected for the values he had instilled in those around him, into the core business ethos and into the companies engagement with their clients and the communities in which they are located.
Garry had carried over those values that were his own traits, so it was important that I was able to capture both the man and his legacy; which was no mean fete considering the many layers at which he operates. So layering was the answer.
This piece consists of 5 sheets of glass which contain 7 planes of imagery, each of which bears symbolism depicting his time at Irwin Mitchel, his relationship with his colleagues, his legacy on the business, and most importantly, the value of his family. The details have been created by traditional glass painting and a variety of glass etching techniques.
The piece sits in a maple wood plinth which houses a sophisticated LED lighting solution which enriches the piece with equally symbolic colours across the 5 layers.
It was an honour to be able to represent Garry in the designing and making of this piece and I wish Garry and very long and happy retirement. Keep laughing.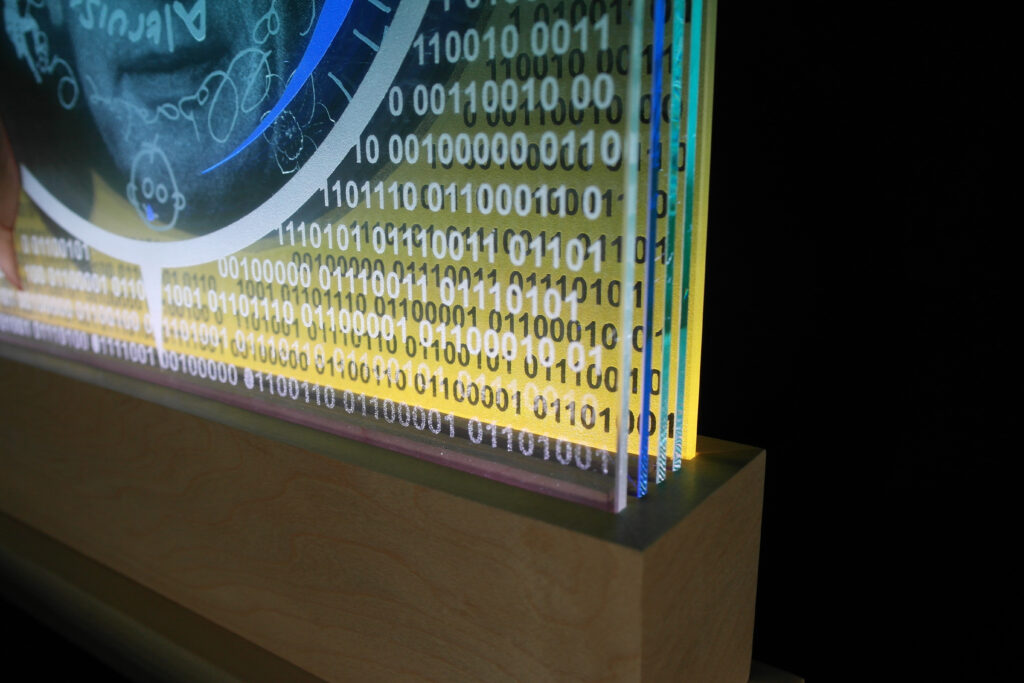 Allison
This memorial panel shows the portrait of a beloved wife and mother, Allison, surrounded by the things that made her life joyous. The design was inspired by the art nouveau work of Alphonse Mucca and includes a halo of yellow roses, VW logo, candles, chocolate cakes and a bee, the motif of the cancer charity that Allison supported. The yellow rose grows throughout the trellis and conceals the names and dates that were special to her.
The panel was painted using traditional methods of glass painting, enamelling and staining. Green flashed glass is used throughout and acid etched detailing. 22 and 23.5 carat gold are used to guild the border and trellis work. The panel was installed in a dimmable LED backlit light box.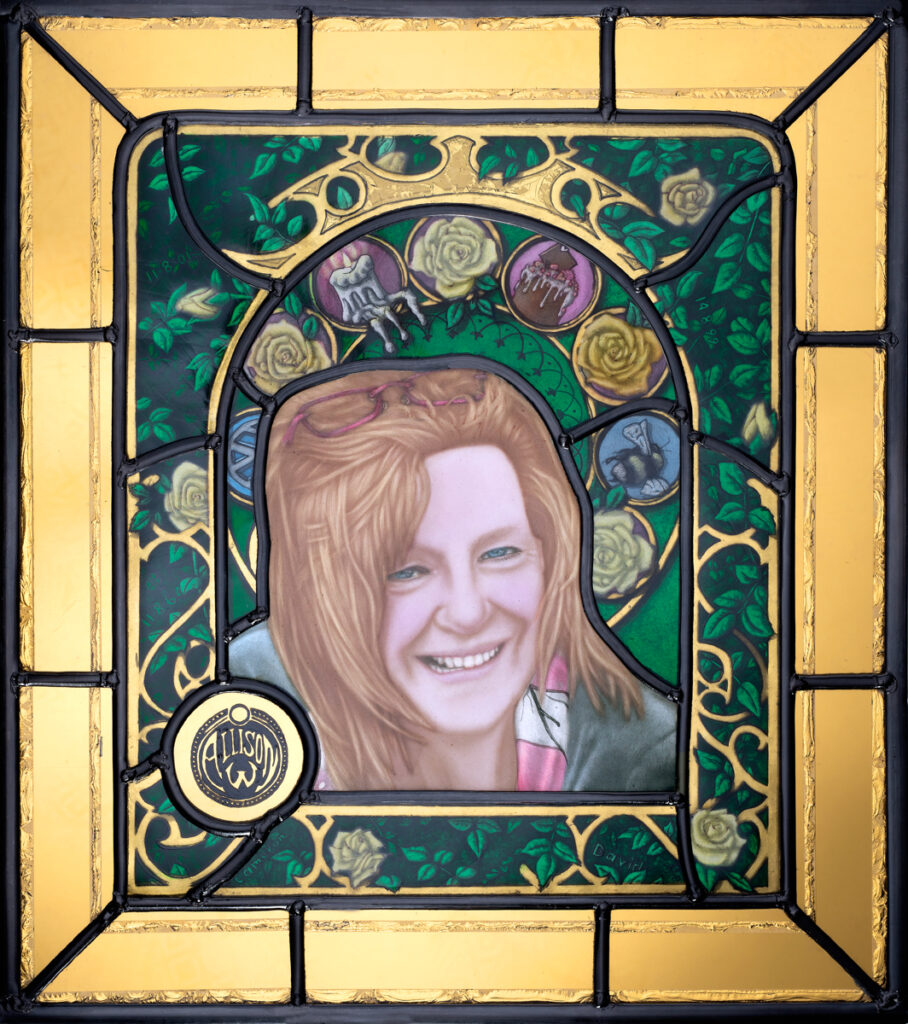 Tommy
This painted memorial portrait captures the life events that Tommy held dear, it is a celebration of his most personal achievements. The panel was shaped and incorporated into the face of a guitar to reflect his passion for music.
The guitar was fitted with an LED adjustable lighting system that allows the panel to be displayed at all times of the day or night.
A traditional leaded stained glass panel with high fired paints, enamels and stain.
---
Allysa

Rachel
This panel was commission in memory of a loved daughter, sister and grand daughter.
The design respected the wishes of the client while incorporating a reading from her service, while the surrounding decorations reflect Allysa Rachel's floral origins.
The panel was encapsulated into a double glazed window unit and lovingly installed into a prominent window.
A traditional leaded stained glass panel with rainbow iridised glass, high fired paints, enamels and stain.
---
The Tardis
This very colourful panel was commissioned for the bedroom of a young Doctor Who fan, and focuses on the wonders of his Tardis.
The panel incorporates a variety of art glass techniques including, leading of the main panel, copper foiling of the Tardis' police box panelling, fused glass and painted Doctor Who logo, sand etched details and textures.
The photographs show the panel at various stages of making and its completion.
---
Roundels
I make a series of traditionally leaded and painted stained glass roundels. The range consists of personalised pet portraits, birthday celebrations and family affiliation.
Pet Portraits
My pet portraits aim to capture the likeness and warmth of your family pet. Working from your favourite photograph of you pet, I thoughtfully paint layers of details to create the depth and texture of coat, while ensuring a genuine likeness. The portraits are typically bordered by a colour of your choice, perhaps from a colour, favourite bedding, your décor etc., however they can also incorporate special requirements too.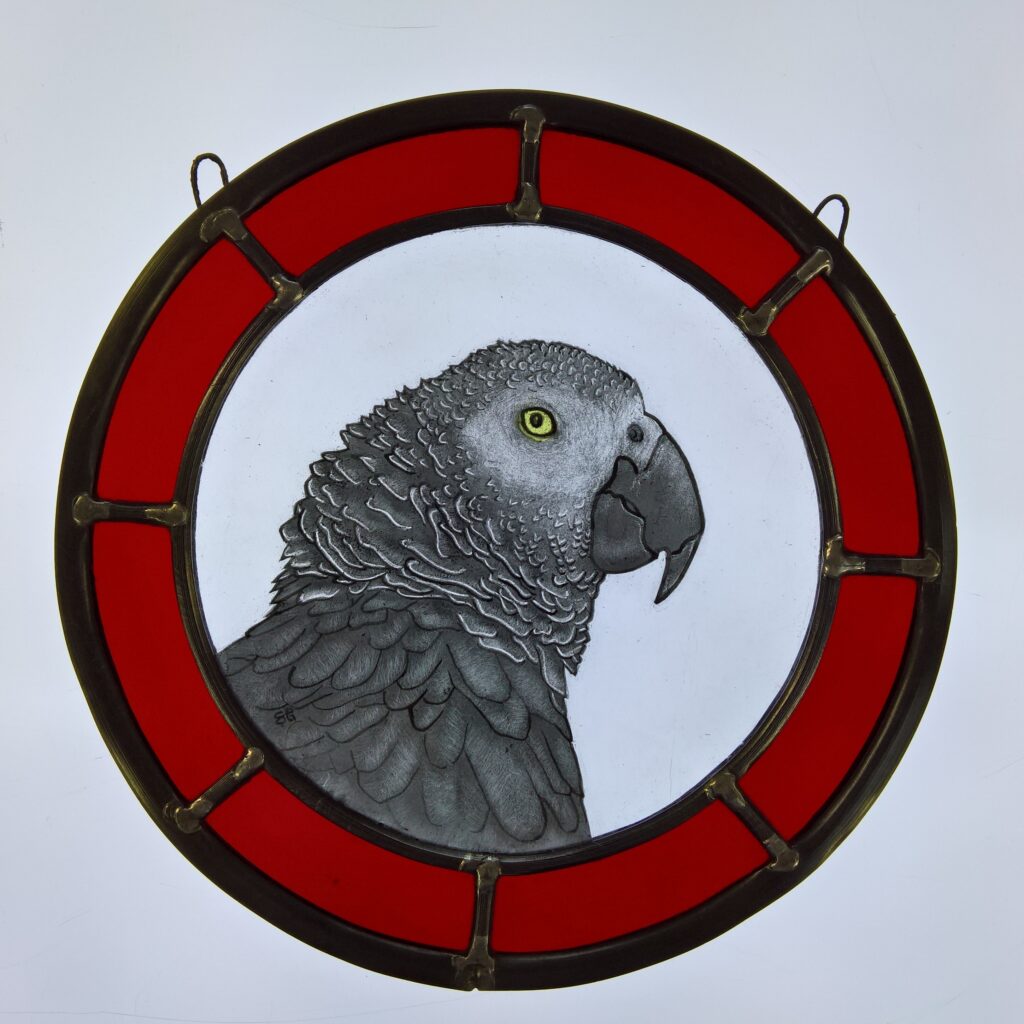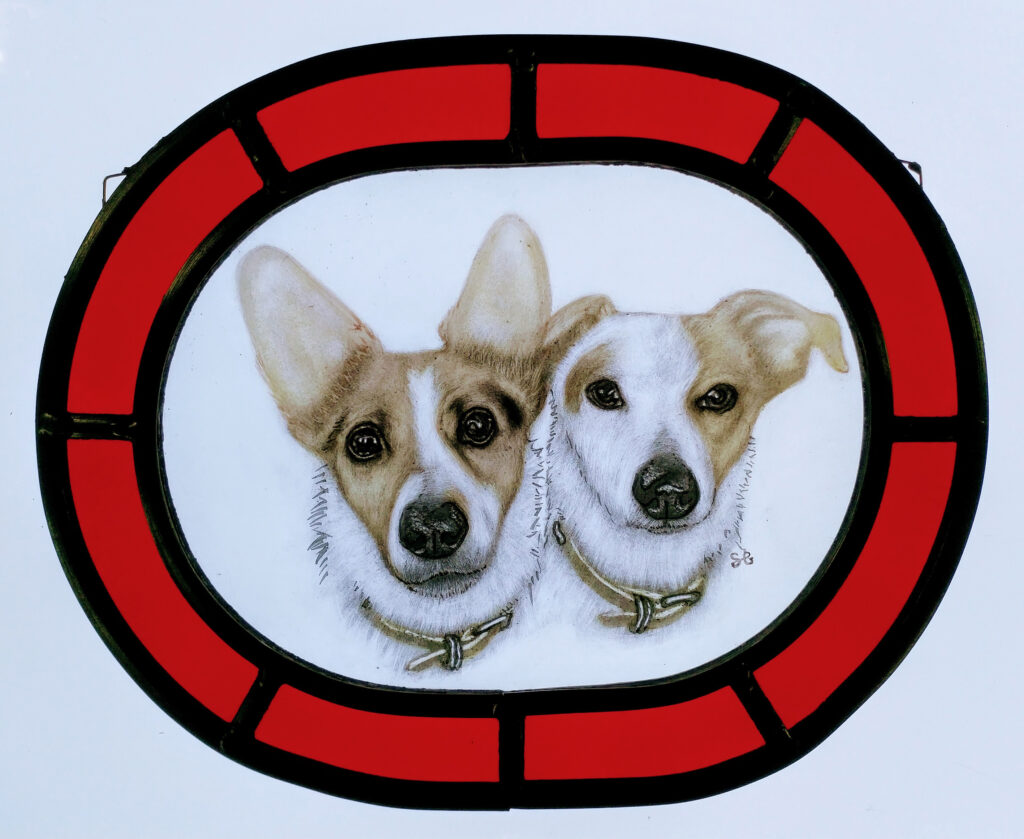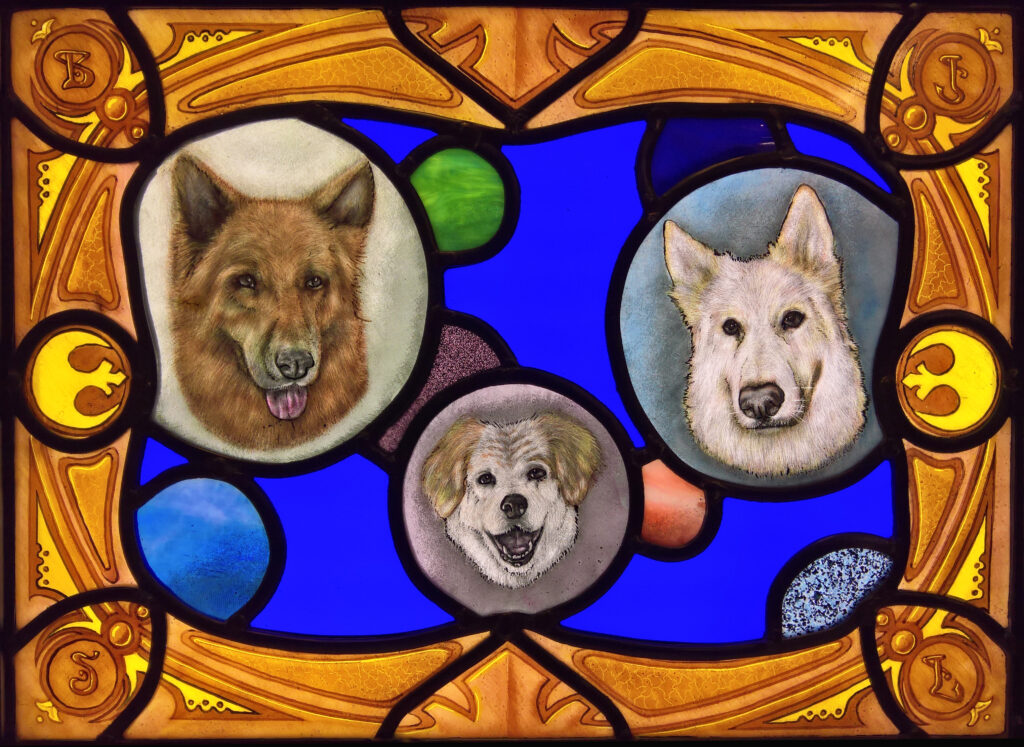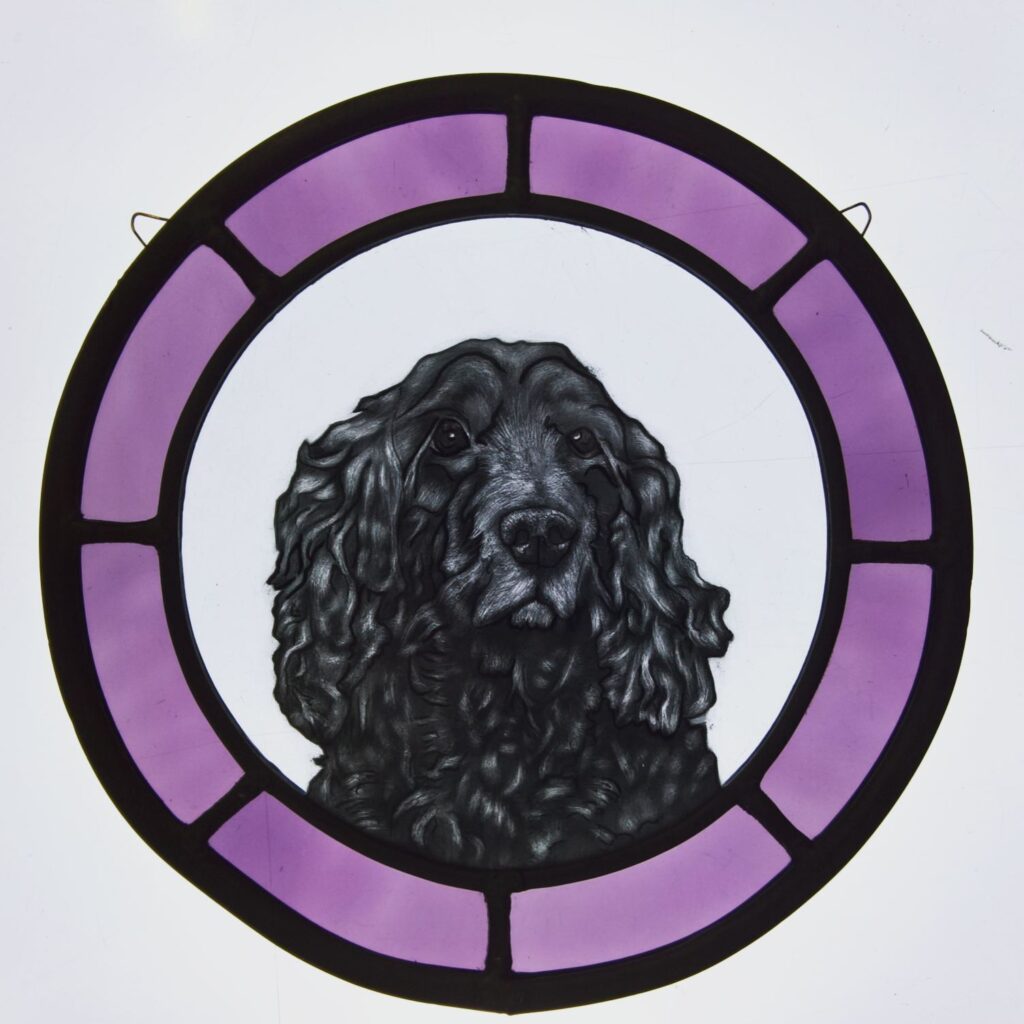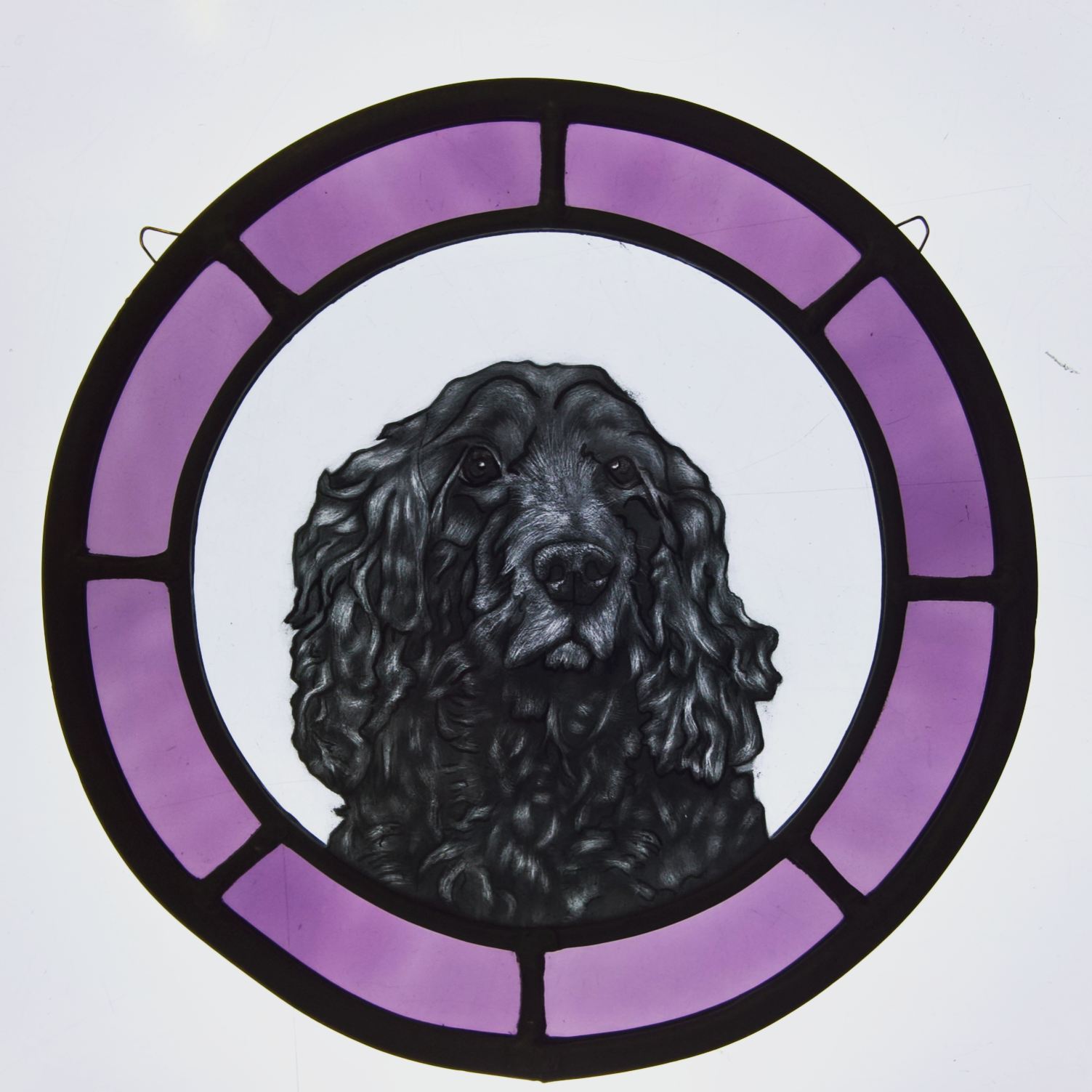 Birthday Celebrations
Why not treat your mother, sister, daughter or close friend with a very unique gift to celebrate that special birthday. The roundel designs are based on the flowers, gem stones and colours that are associated with the birth month; Lily of the Valley and emerald for May, Gladioli and peridot for August, or Chrysanthemum and topaz for November. All are then personalised with the recipient's name incorporated onto a painted lace ribbon.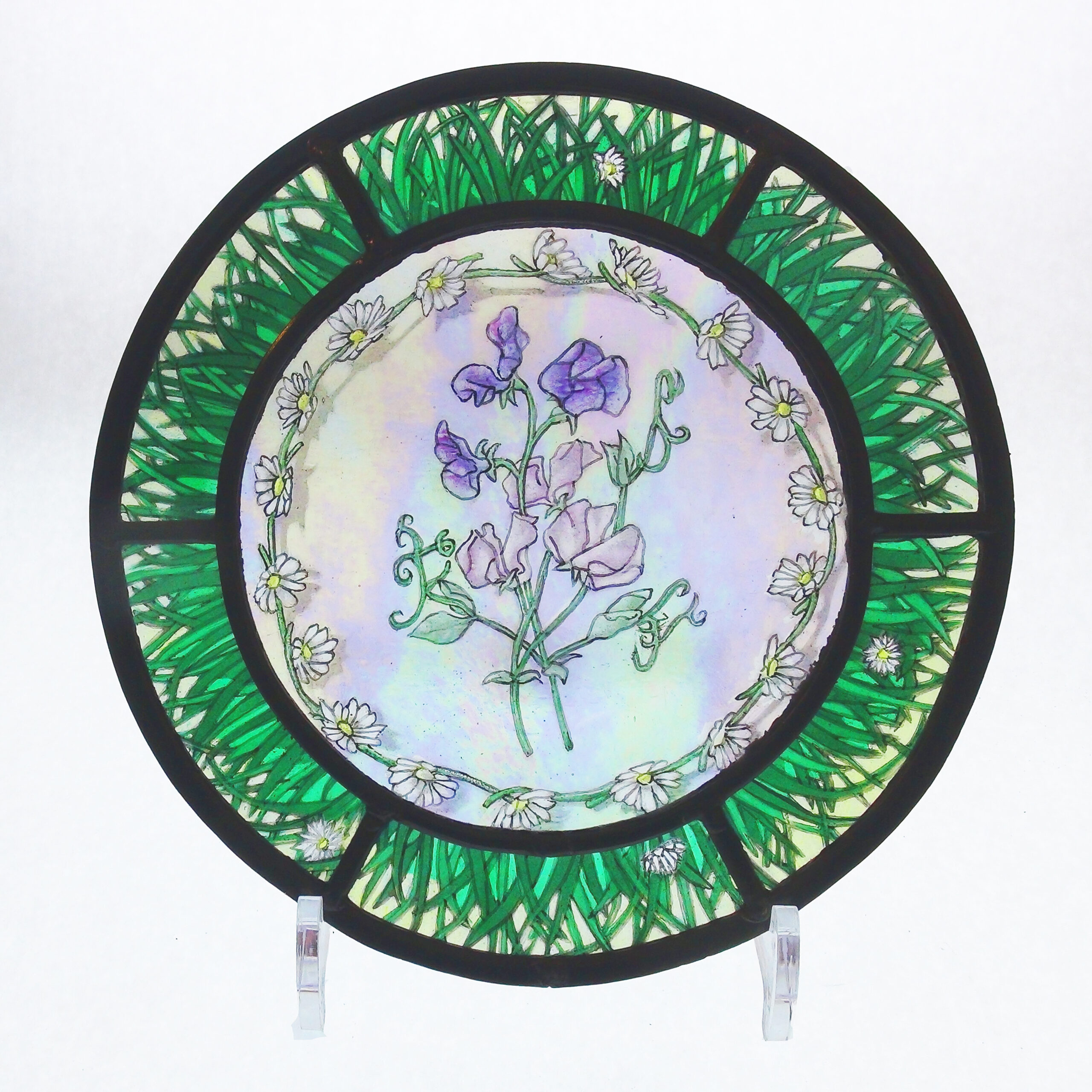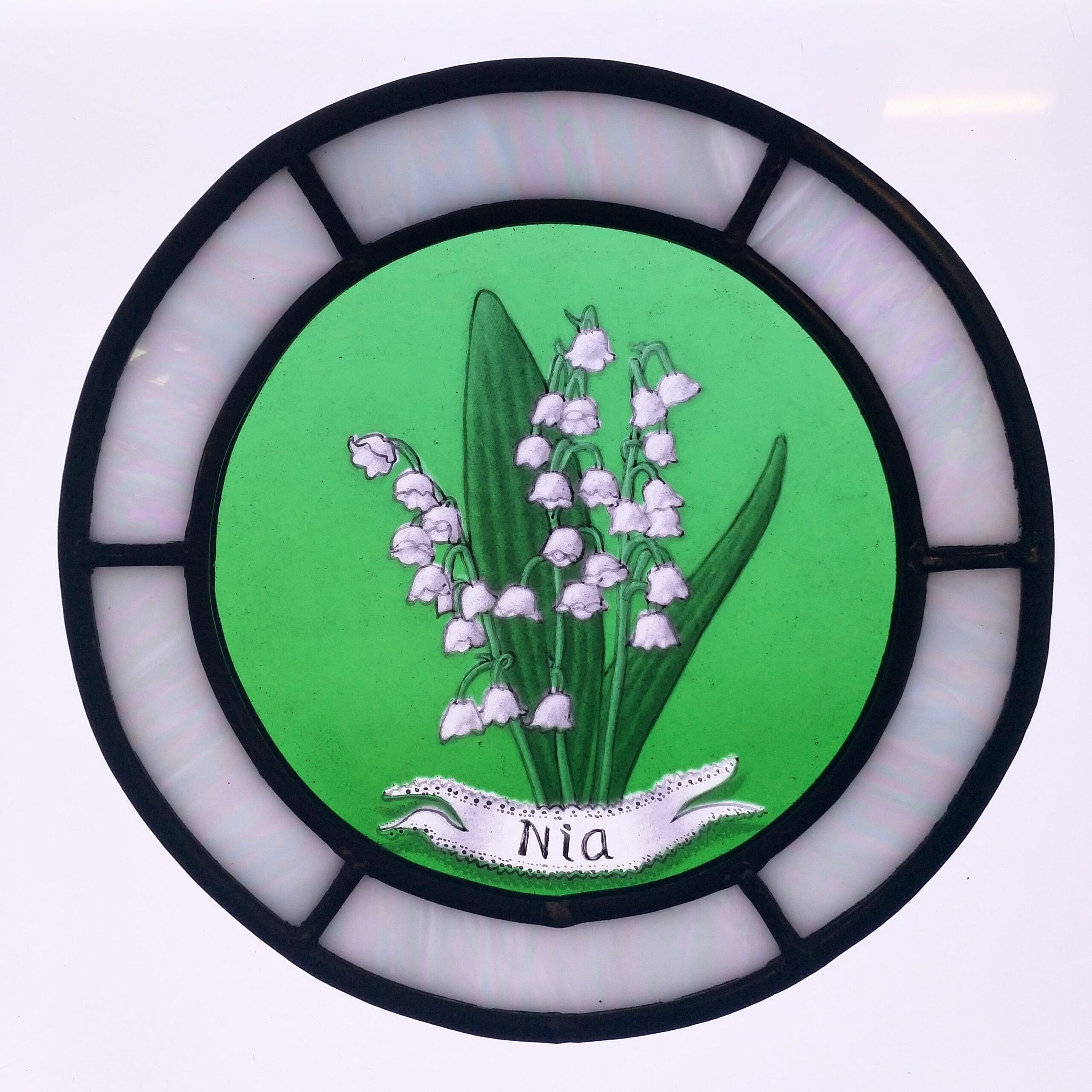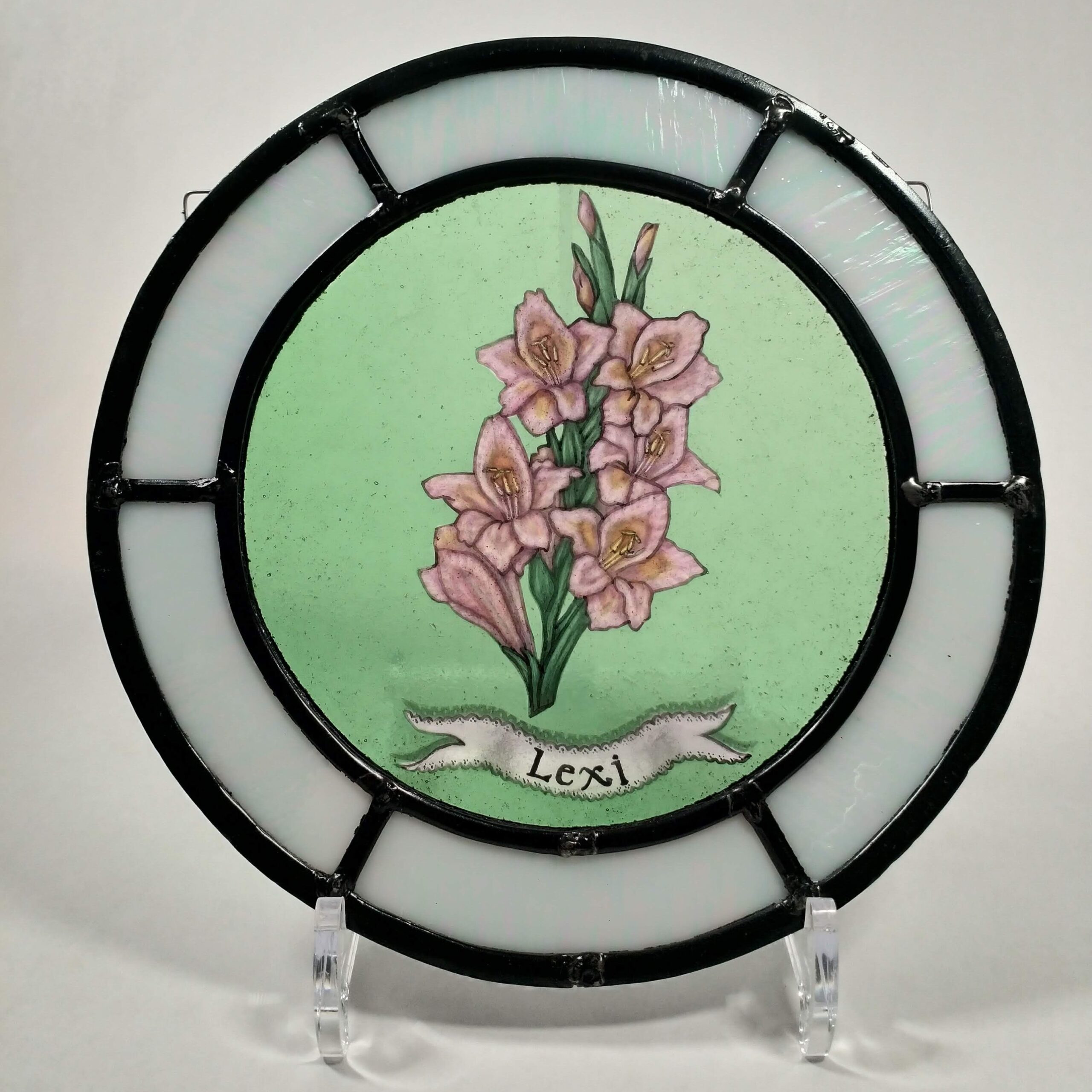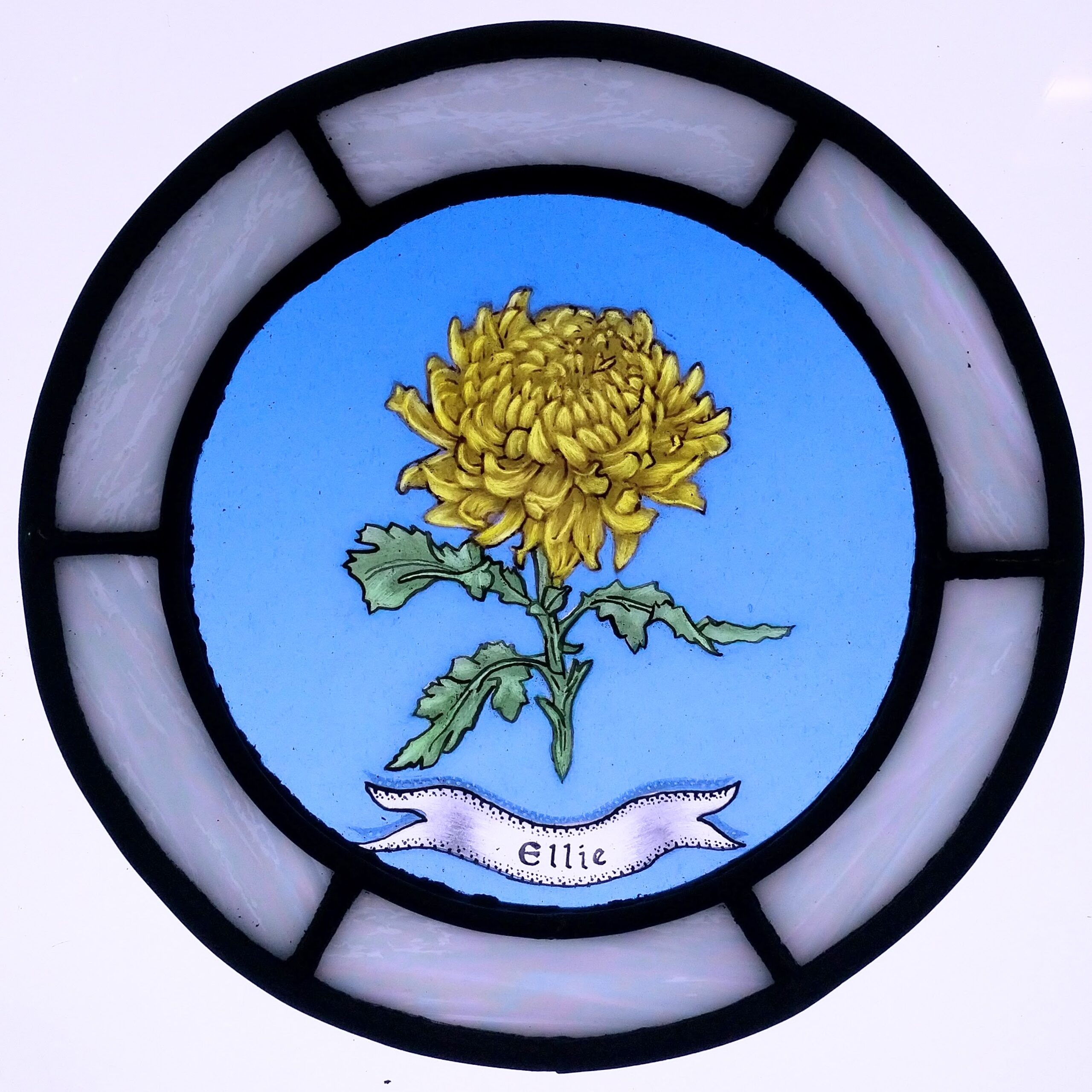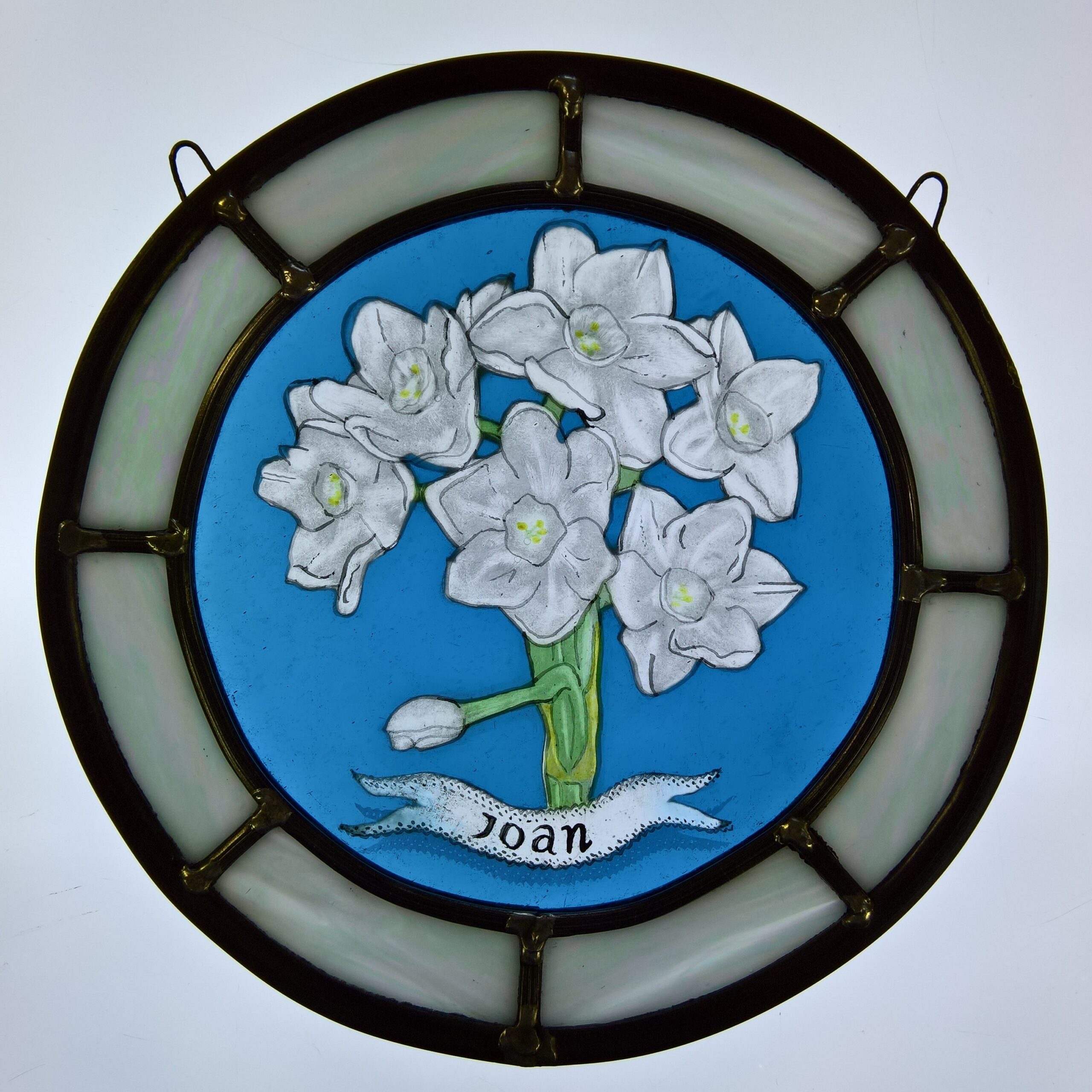 Family/Clan Affiliation
Many of us are proud of our family roots and wish to demonstrate our connections. From Scottish highland clans to occupational origins, most names can be incorporated into a design.
Similarly, many of our military veterans celebrate their commitment to their regiments. These roundels focus on the regimental crests and colours.